Graymont derives its competitive edge in large part from more than 1,750 remarkable men and women who bring their skills and energy to work every day at offices and plant sites across North America and Asia-Pacific.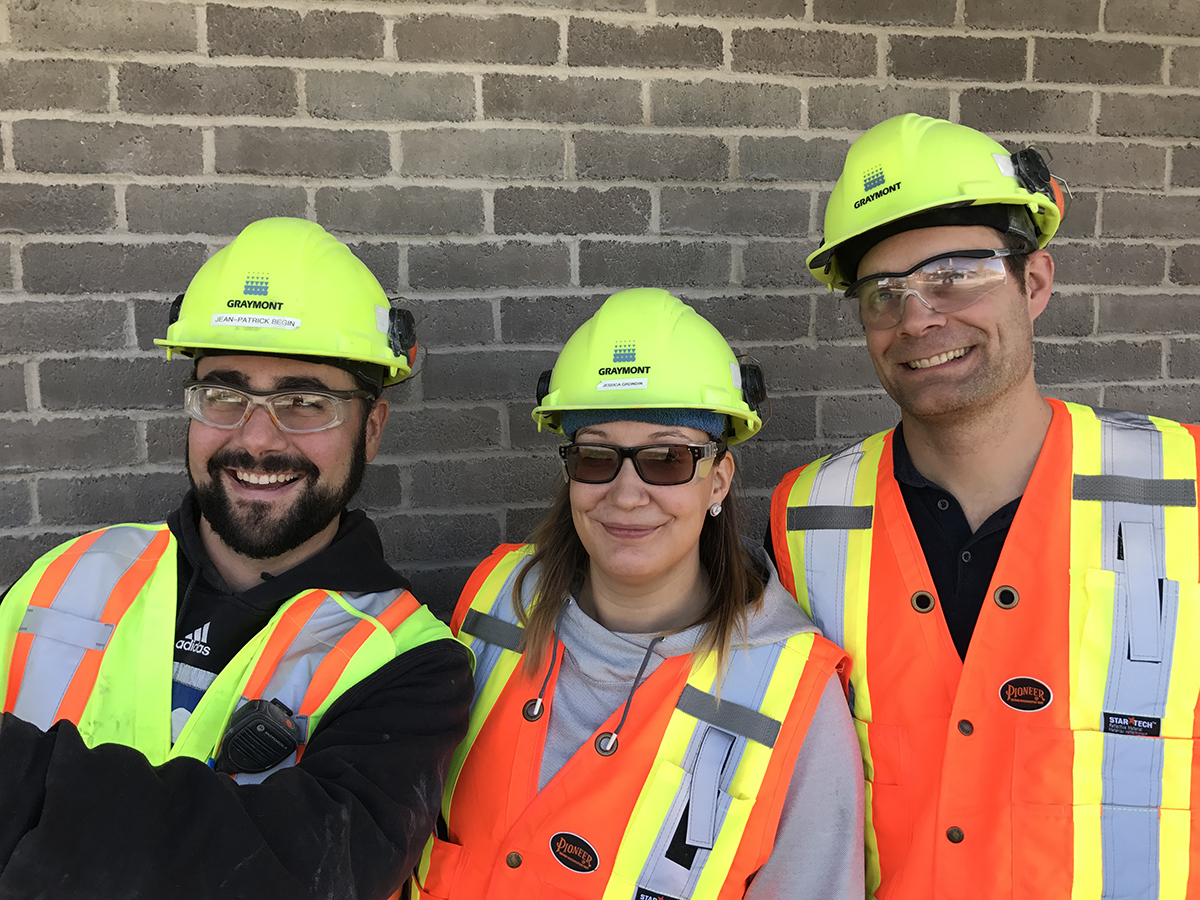 In return for their hard work and commitment, the Company aspires to provide competitive wages and benefits, a safe, healthy work environment where employees can function day in and day out without injury, as well as opportunities to grow and develop their skills in order to realize their full potential.
Health and Safety
Striving to be a world-class company necessitates achieving an outstanding level of performance in the crucial area of health and safety. To that end, we operate under stringent, organization-wide safety standards, which emphasize employee involvement through safety committees, internal safety audits, training and certification, as well as strict adherence to safe work habits.
We are striving for continuous improvement in health and safety, with the ultimate goal of zero injuries and zero incidents.
Training and development - Investing in our people
The Investing in Our People (IOP) Program is an on-going initiative focused on providing employees from the various business units and corporate functions with the wherewithal required to make the best decisions about their respective areas of Graymont's operations – to, in effect, become true "owners" of the business. To that end, IOP employs a variety of specialized training tools and programs tailored to support Graymont's quest to become a truly world-class organization, while furthering participants' career opportunities.
Safety Challenge
Be safe – Play it smart
The Graymont Safety Challenge is representative of a fresh new approach to safety training, centred on a dynamic, interactive learning environment designed to help health and safety teams combat complacency and optimize employee buy-in to create a more robust safety culture.
The Safety Challenge employs a novel and highly-engaging game-show format, where workers are empowered stewards of their safety performance. Employees at a given site are divided into multi-disciplinary teams and challenged to show which side can demonstrate the best knowledge and understanding of the Company's safety standards and culture over the course of the one-day exercise. This friendly peer-led competition, focused on collaborative goal-setting, has proven to be a very effective tool, enabling employees to complete crucial training while fostering camaraderie and teamwork.
Another key attribute of the Safety Challenge is that it is relatively simple to organize and implement. It essentially involves four steps: plan, play, learn and celebrate. To get a better feel for how the Safety Challenge works – and the degree of enthusiasm generated among participants – we invite you to watch this short video:
Safety Challenge Tool Kit
To help facilitate further improvement in workplace safety, Graymont is prepared to share the workings of its Safety Challenge with other industries that feel they might benefit from similar initiatives. The Safety Challenge Tool Kit is a comprehensive source of background information, instructions, tools and tips designed to assist in planning and implementing a successful Safety Challenge program. Interested parties can also download the Safety Challenge logo to use in conjunction with your events.
Note: Graymont Safety Challenge trademark registration pending